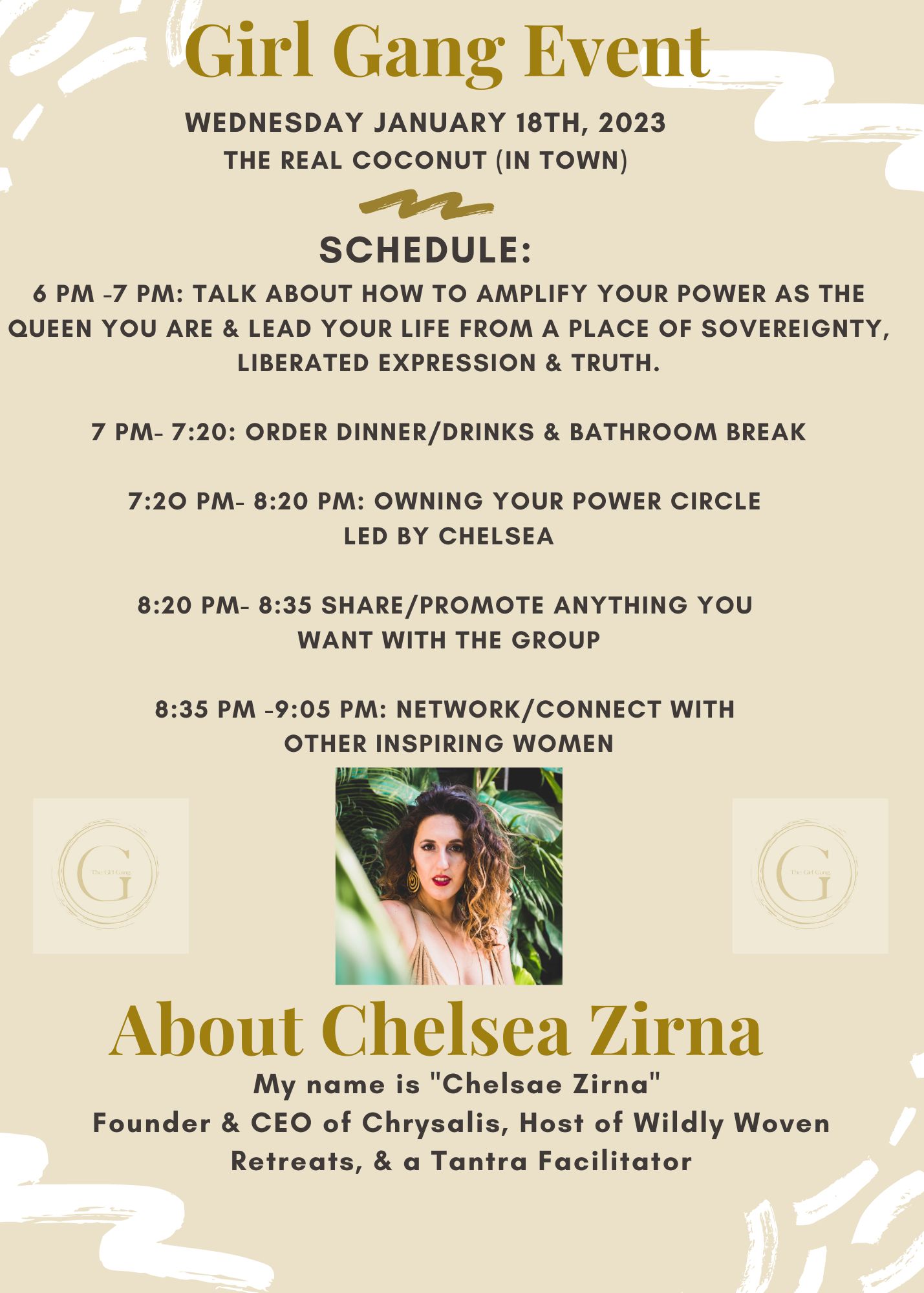 Girl Gang Meet Up Jan 18th!
Girl Gang  Meet-Up this WEDNESDAY JAN 18TH, 2023
Location: The Real Coconut (IN TOWN, NOT AT THE BEACH).
Location: https://goo.gl/maps/GUR6TnefYVmAnVPD8
Come hang with our powerful community of women!
SCHEDULE:
6 PM -7 PM: TALK ABOUT HOW TO AMPLIFY YOUR POWER AS THE QUEEN YOU ARE & LEAD YOUR LIFE FROM A PLACE OF SOVEREIGNTY, LIBERATED EXPRESSION & TRUTH.
7 PM- 7:20: ORDER DINNER/DRINKS & BATHROOM BREAK
7:2O PM- 8:20 PM: OWNING YOUR POWER CIRCLE LED BY CHELSEA
8:20 PM- 8:35 SHARE/PROMOTE ANYTHING YOU WANT WITH THE GROUP
8:35 PM -9:05 PM: NETWORK/CONNECT WITH OTHER INSPIRING WOMEN
**NEW MEMBERS ( If you have never signed up with girl gang online) : Join Girl Gang to access all our resources to get your FIRST meet-up FREE and a discount on all future meet-ups: https://thegirlgang.co/girl-gang-membership-pricing/
If you don't want to join Girl Gang, this event is 300 pesos at the door.
Returning Member (those who have purchased a membership already): Cost is $200 pesos…You can pre-register here:
https://www.eventbrite.com/e/the-girl-gang-meet-up-jan-18th-tickets-514122483187
Xoxo,
Ally