Ready to grow your friendships, network, business & level up as a human?
Be part of a tribe that is revolutionizing the way women come together.

The Girl Gang is one of the most recommended communities in Tulum.
Scroll down to see what others have to say about it & sign up today!

The Girl Gang Membership Pricing
The Girl Gang Basic
No Promotions Allowed WhatsApp Chat (Stay connected to the group to ask questions to get support in Tulum & stay up to date on Girl Gang Info)

International Girl Gang Chat Group

Private Tulum Facebook Group Access

Private International Girl Gang Facebook Group

The cost of In-person meet-ups in Tulum is $15 USD if you choose this membership.
The Girl Gang VIP
$
22
ONE-TIME Payment To Access All Our Resources That Will Make Getting Aclimated & Connected Into Tulum Easier Than Ever:
One Free Girl Gang Meet-up in Tulum! (Must be used within 3 months of purchase). **Valued at $15 USD**

You can access our in-person meetups in Tulum for a discount. Only pay $10 USD per meet-up.

Telegram & WhatsAppp chat w/ One Promotion A Week to help grow your business or events & be in the know!

No Promotion Whatsapp Chat (Stay connected to the group to ask questions, get support in Tulum & stay up to date on Girl Gang Info)

FREE Online Yoga & Motivation Classes

Girl Gang Recommendation Doc (Know exactly where to go with whatever you need, never feel lost!)

Access 40+ WhatsApp chat groups & 41+ facebook groups for ride-shares, real estate, community, clothing swaps, botox, party chats, neighborhood chats, tantra, crypto club, comedy, local news updates & more! ( Get completely linked into Tulum just with this document)

Access 150+ Playa WhatsApp Chats for marketing your services or connecting!

Free Private Facebook Group with 7k+ women

Access Tulum Salsa & Bachata Guide
Are You A New Entrepreneur Looking For Support?
Click below to join our FREE private group for exclusive content & free resources to leave the job you hate & start the business you love.
Want To Join The Girl Gang Retreat Waitlist?
What Girl Gang Members Are Saying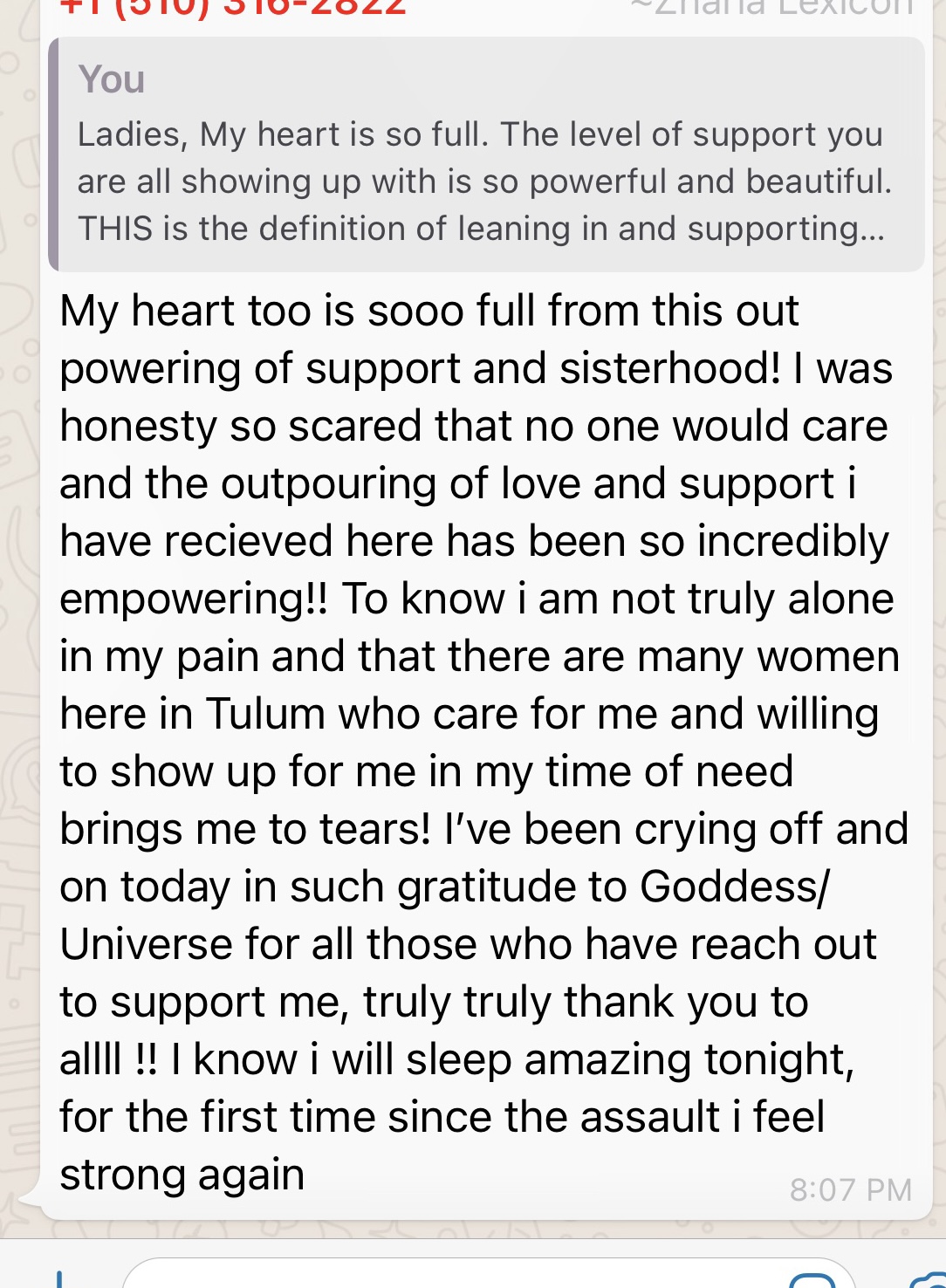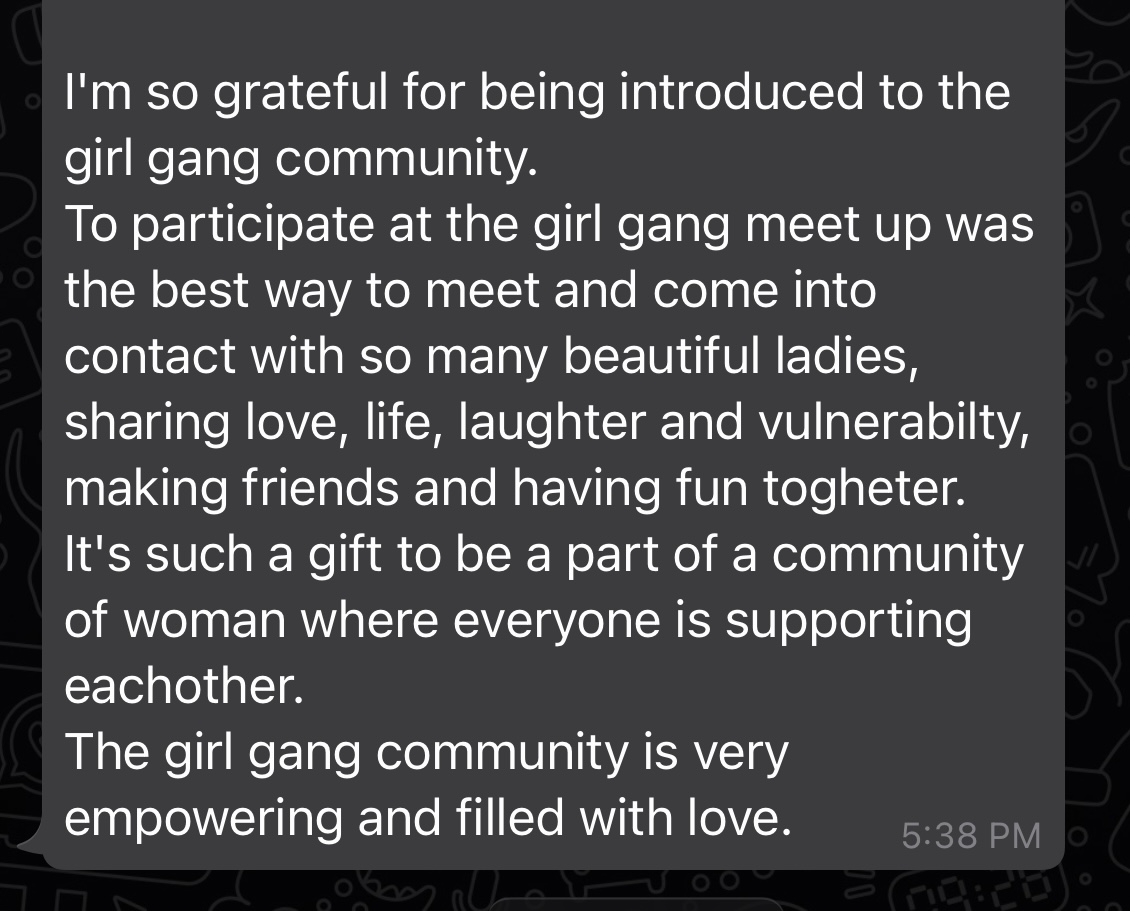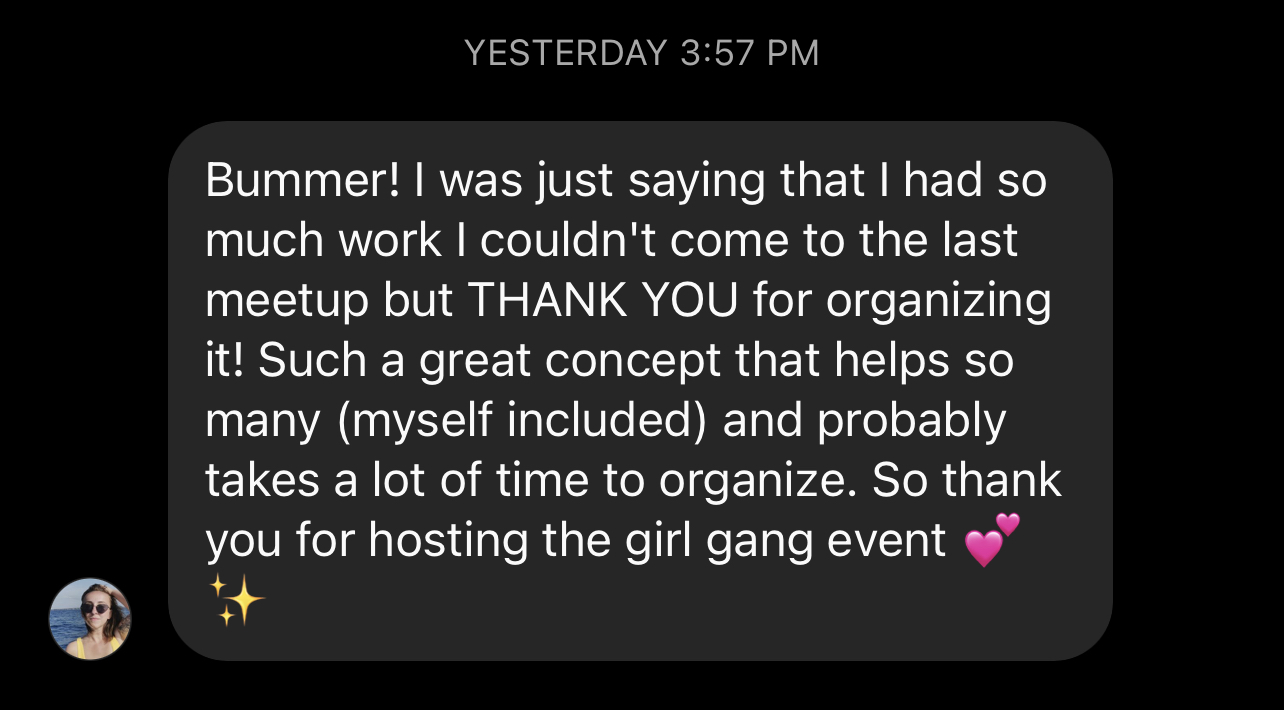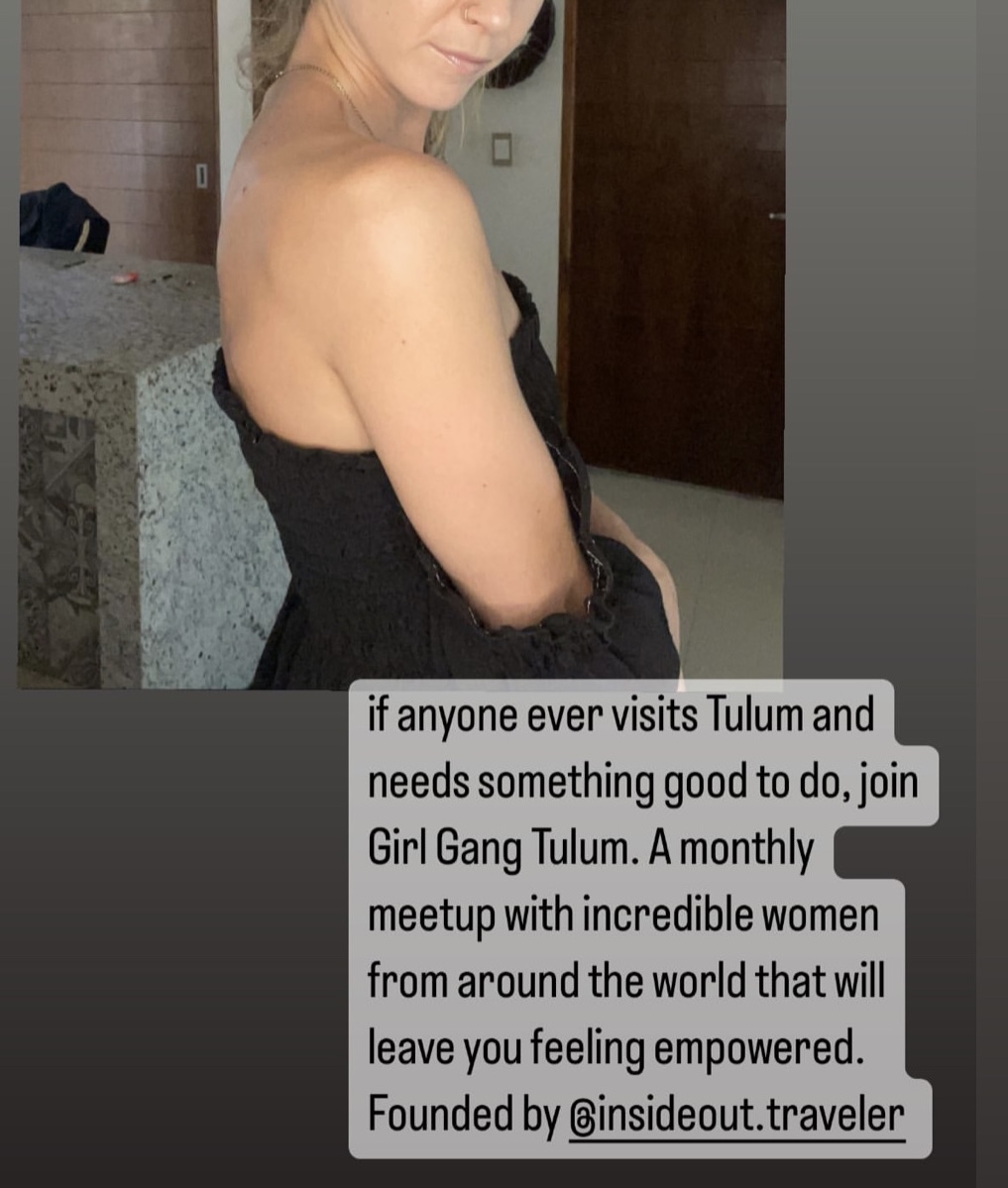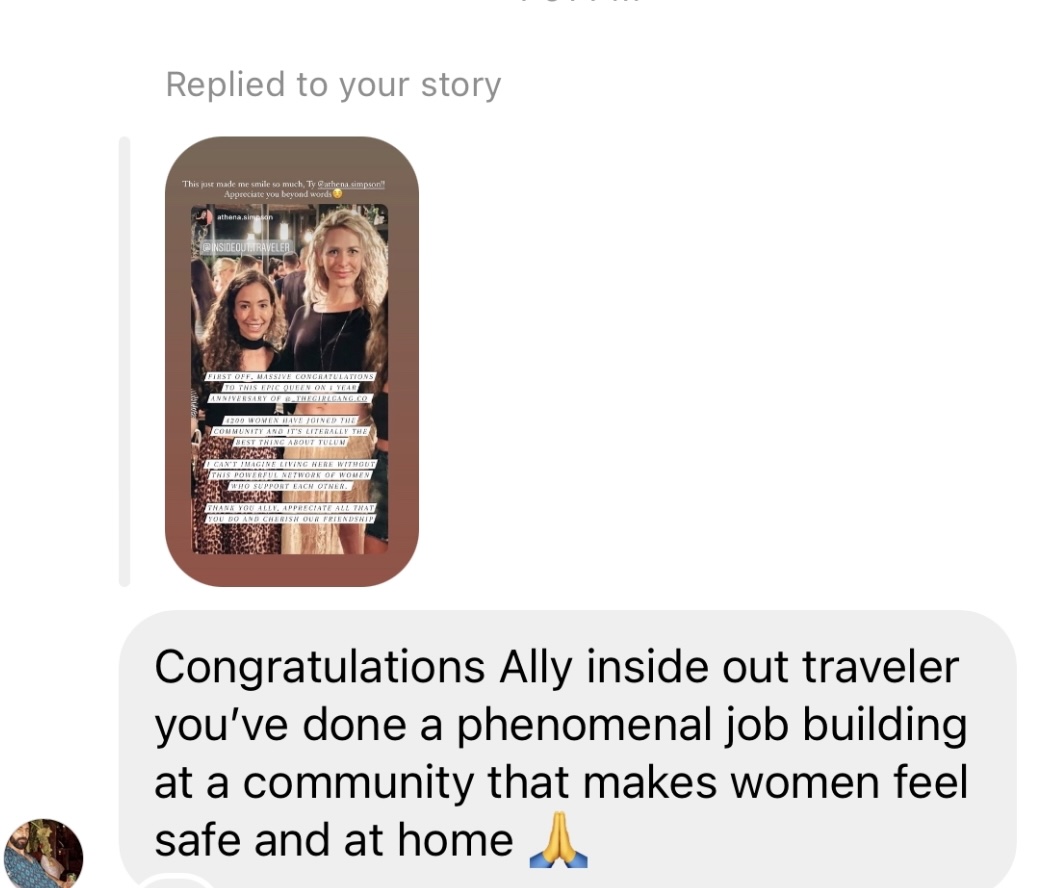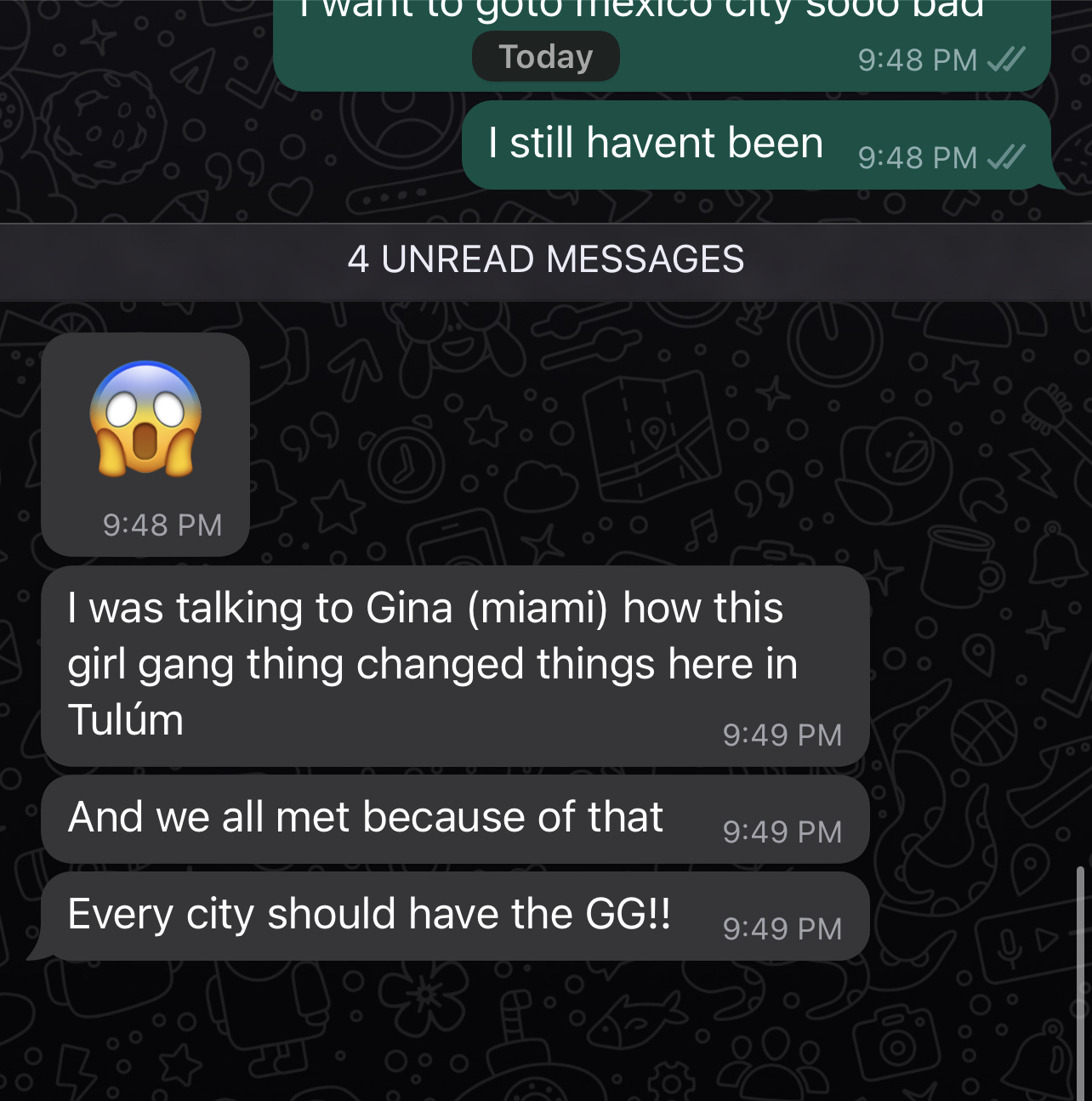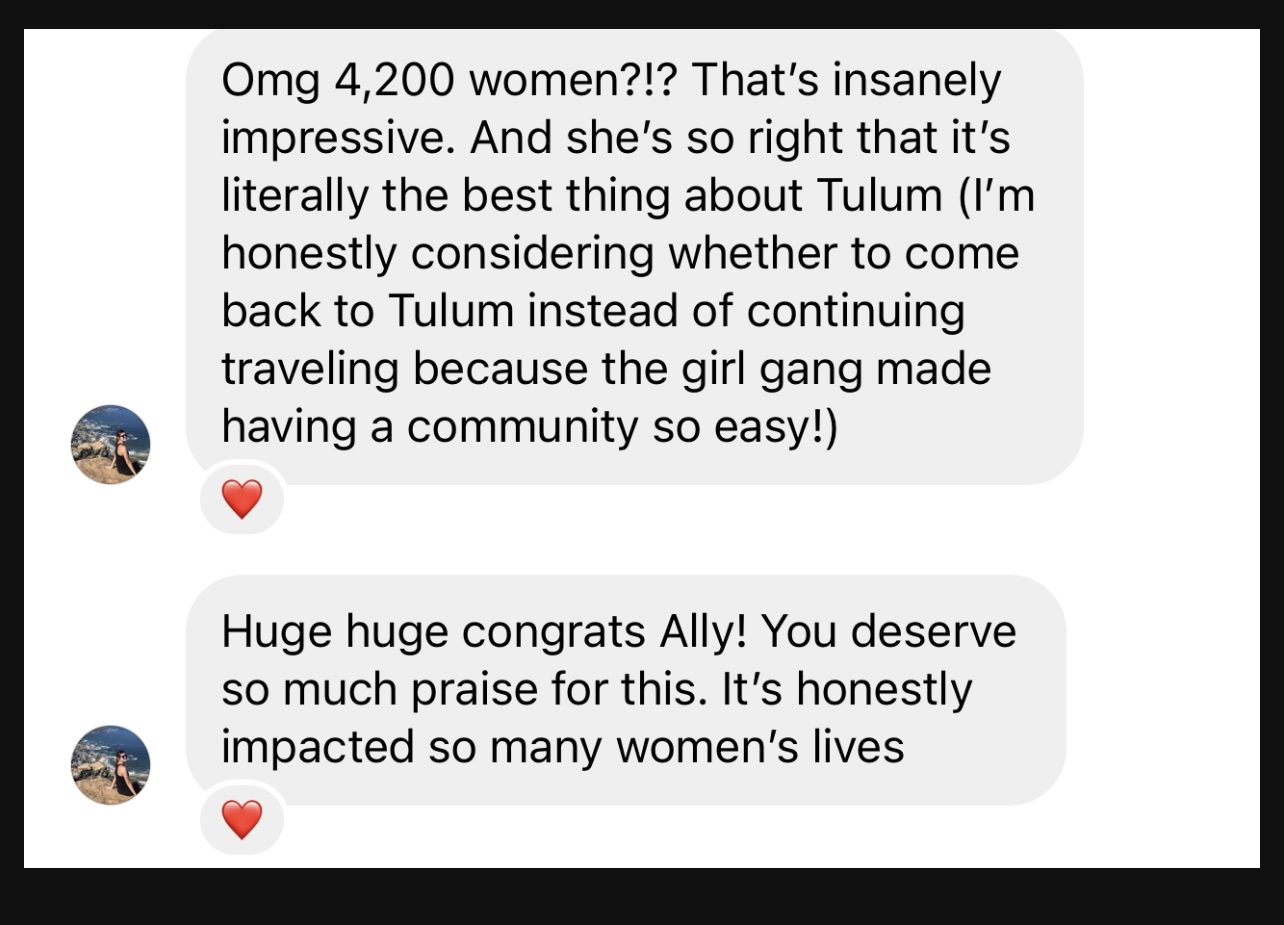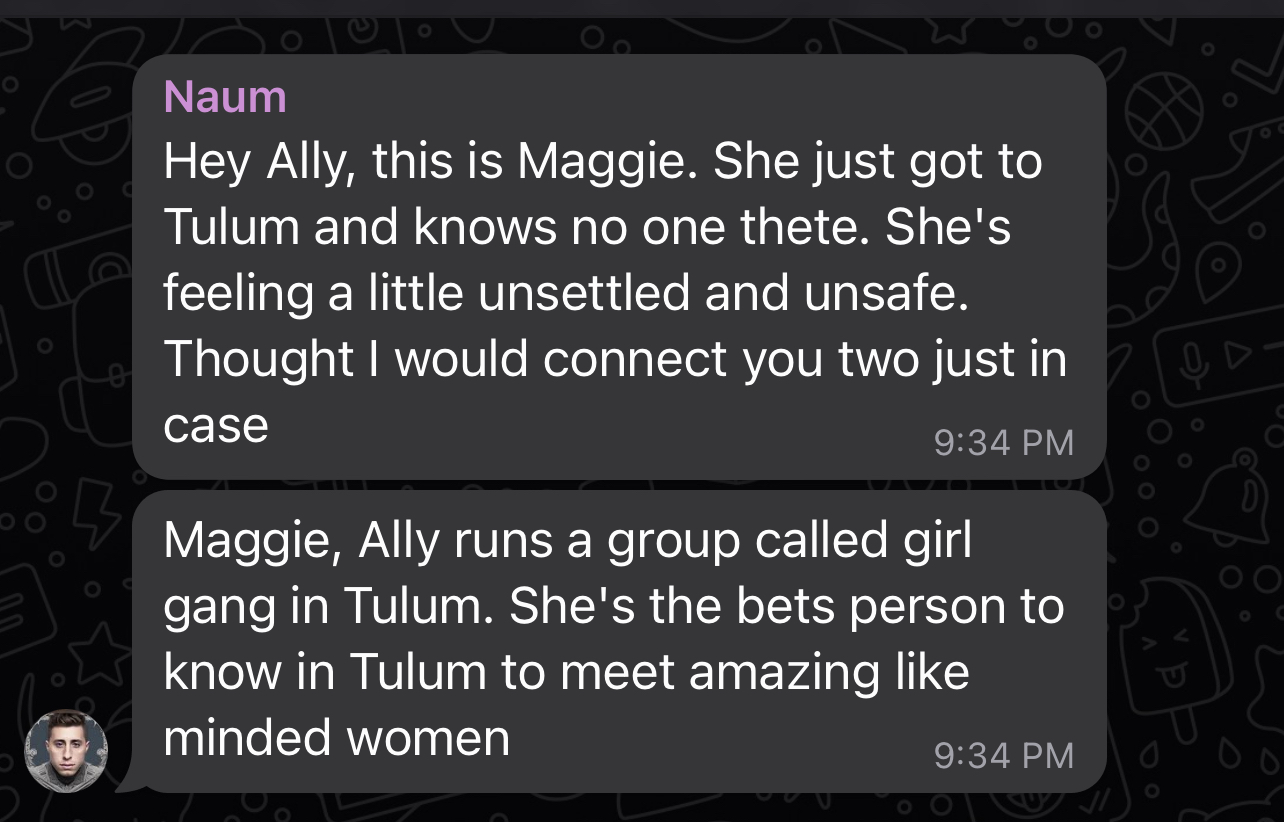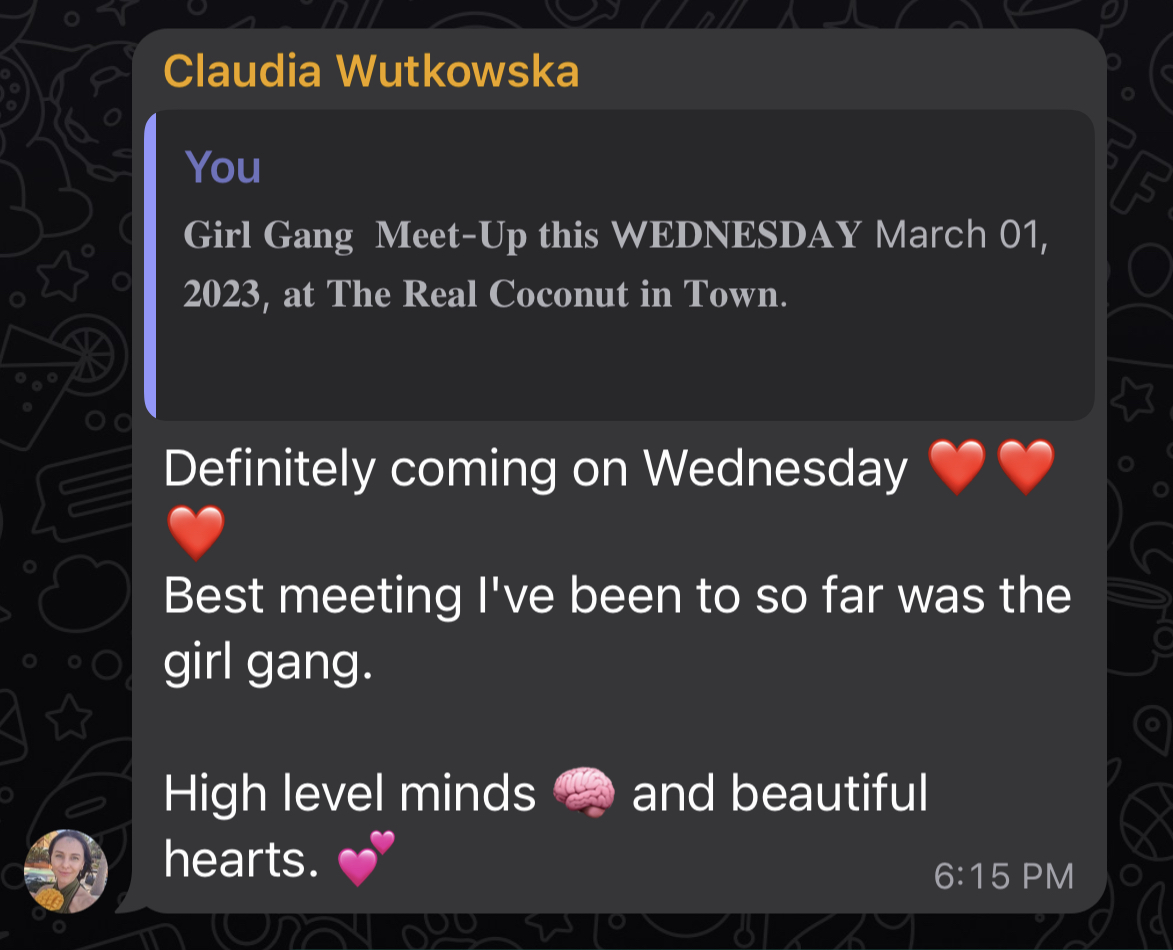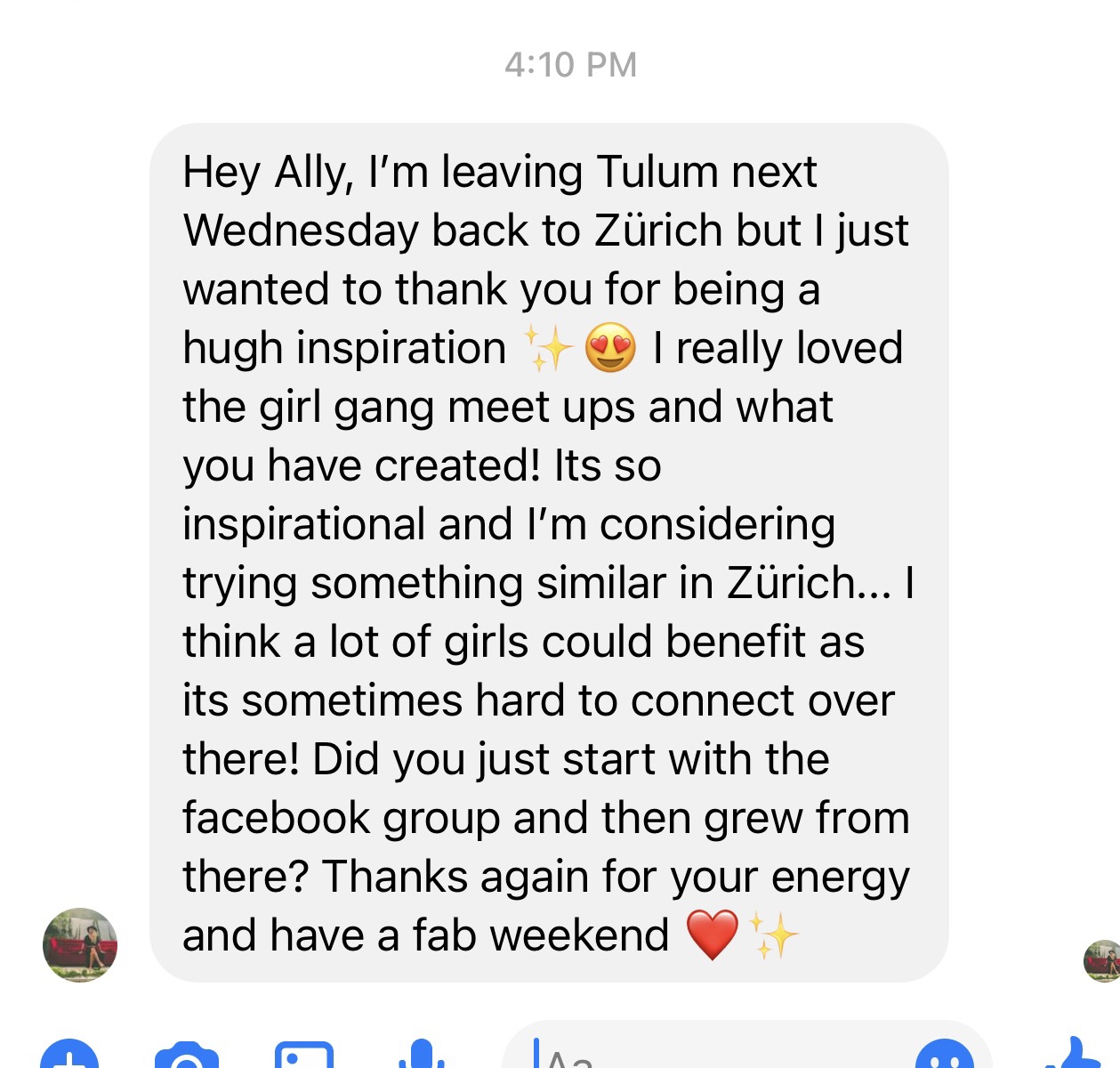 Have Questions About Girl Gang?
Girl Gang Talks is a weekly talk we have in Tulum where expert leaders from all over the world lead a conversation to help educate the group on various topics. We cover business, money, personal development, love, relationships, growth mindset and more! You will receive access to our video library hosted on this website!
We offer 3 different styles of yoga. We have Power Flow , Gentle flow and Regular Vinyasa. These are all level classes. It's smart to build in a diversity of yoga classes into your week as each class touches a different aspects of health. A Girl Gang Goddess knows that the key to powerful living is through balance, wellness and making self care a priority. With these video's, you can now do yoga classes anytime and any place in the world. These classes individually are valued at $20 USD, so with two classes, your membership is paid for.
Get all your Tulum questions answered in a safe space and get them answered faster than in the Facebook group! 
You'll get access to 1 promotion a week for your business, events ad more. y
You'll stay in the loop on all the cool and fun things happening in Tulum.
Make friends and make plans with other high vibe women in Tulum.
These meetups happen every other week on Wednesday from 6 pm-8 pm in El Centro, which is in the Town of Tulum. We have women from all over who come to gather & connect on a variety of topics. We have multiple circles each evening. We have circle topics, including relationships, finances, entrepreneurial, and more! We also have casual circles where you can simply hang out and connect.
Finally, we mix with the men's circle after our women's group meet-up ends.
This is a great way to meet others in the community and get connected!
The Girl Gang Recommendation Doc is a list of locations that support you in connecting with local business's and resources in Tulum.  In Tulum, it can be difficult to navigate the area, and difficult to find places you can trust. This list has been crafted for women in Tulum, by women in Tulum.
There are no refunds for the one-time payments to Girl Gang.
For the monthly mastermind membership, you can cancel at anytime.
There are no refunds of previous months used, and you will have access to the mastermind group and Sisterhood Mentorship Program till the end of the month. Future payments will not be billed.
In Order for us to grow, and support more women, it is important to have money coming into the organization to support the administrative costs of the group. 
We have added a low cost fee to join the program. Please know that this nominal fee is helping in a major way to support the efforts in this group.
The $11 fee is a contribution that supports women supporting women, so thank you inn advance for supporting this initiative.